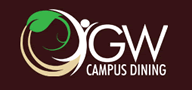 "By
protecting and improving our environment
, the communities where we do business and the students we serve,
Sodexo makes every day a better day
and every tomorrow a better tomorrow."


Payment Options
Cash, credit card, and Colonial Cash are accepted at all Sodexo locations at GWU (inlcudes J Street, Pelham Commons in West Hall, and G-Dub Java). Colonial Cash users are exempt from DC's 10% sales tax!
Colonial Cash
Colonial Cash is a declining balance, flexible and individualized spending program, featuring both dining and retail options, available on campus and in the city. This program includes purchasing power at any Sodexo Dining location on the GW campus in addition to a number of University services such as the GW Bookstore, campus laundry facilities, vending machines, parking services, Student Health services, and copy and mail services as well as a host of neighborhood dining options and services such as dry cleaners, pharmacies, convenience stores, and other retail locations.
For more information go to https://services.jsatech.com/textpage.php?pageid=456&cid=46&.