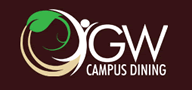 "By
protecting and improving our environment
, the communities where we do business and the students we serve,
Sodexo makes every day a better day
and every tomorrow a better tomorrow."
Our Commitment
Great Food. Variety. Convenience.
We are a passionate and dynamic team striving to satisfy diverse tastes and appetites. We cater to your need for convenience and flexibility, providing a variety of menu choices, hours of operation, and meal plans. Our program is designed to deliver fresh, healthy, high quality food.
GW Dining Services is also a student driven department that is committed to constantly improving our offerings and services. We want you to take an active role in helping us customize our programs so we can continue to meet your needs. There are many ways in which we solicit feedback: comment cards at each dining venue, email comments via the website and, most effectively, talking with our management and supervisory team members located on site.
Come dine at the GWU's restaurants and enjoy the comfort, convenience, outstanding food, and inviting atmosphere all designed especially for you.
We hope you find our website to be a useful tool to familiarize yourself with all that GW Dining has to offer. Let us know what you think! Don't forget to bookmark your favorite links for easy navigation and daily menu access.